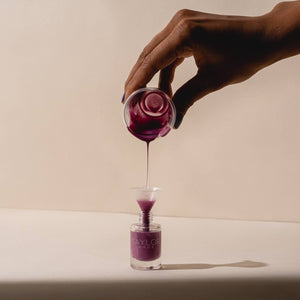 You need nail polish as unique as you are
find your true hue
We've re-designed the entire mass-beauty model to create a truly unique nail polish opportunity.
1. Determine your best colors
A. take a close look at the veins on your wrist. What color are they?
They have a slight blue or purple tint (cool)
They're a bit more on the green side (warm)
I'm not sure (neutral) .
B. Look at your natural nail beds. What color are they?
Pink, more on the red side (cool)
Peach, more on the gold side (warm)
I'm not sure (neutral) .
C. How do you tan during the summer?
Not so great—I usually get sunburn first (cool)
I tan pretty easily (warm)
It takes me a while to tan, but I don't burn much (neutral)
D. What kind of jewelry do you normally wear?
Silver (cool)
Gold (warm)
I could go either way (neutral)
E. If you were to pick a neutral-color top, would you go for white or ivory?
Definitely ivory—white makes me look washed out (cool)
White looks better on me (warm)
I'd be fine with either color (neutral)
Cool
If you answered mostly "a" above you have cool undertones and they lean towards pink and red hues. Your best colors include emerald greens, deep purples, lavender, pink, light and bright blues. If you prefer to wear warmer colors (we believe in breaking the rules too!), we recommend pale yellows and rose reds.
Warm
If you answered mostly "b" you have "warm" undertones and they lean towards peach and golden hues. Your best colors are warm reds, green, brown golden yellow, peach, coral and amber. If you're naturally drawn to cool colors step outside of the box with orchid, violet-red or moss green.
Neutral
If you answered mostly "c" or a mix of both "a" and "b", your undertones are likely neutral or a hybrid of both cool and warm. Neutral undertones can usually wear the entire spectrum—consider yourself lucky. And if you're unsure, colors that work for everyone a true red, classic black and blush pink!
2. pick your polish kit
And design your best color based on your undertone results from above. All kits have the capacity to create cool, warm and neutral colors.
Pick your favorite color family and blend your custom shade to match your skin tone, wardrobe or even your attitude!
3. Create your blend
Our go-to guide is a formula for success. Whether you're a nail polish novice or a mixing master, you're going to love the shade you make.
4. Name it
You're breaking away from the one shade fits all approach and its only fitting to style your blend with its own personalized name that you design as well.
5. Flaunt it
Wear your color that is uniquely you and your opportunity to share who you are with the world! Share on social and be sure to tag us for a chance to be featured!